2017-2018
Thank you for visiting our Dorothea Lange Bobcat website. On behalf of the faculty and staff, it is my pleasure to welcome you to Dorothea Lange Elementary School. My name is Michael Flushman and this will be my second year at Lange. I am very excited to continue to work with such a successful and vibrant staff and community.
Lange Elementary School is a neighborhood school located in the hills of beautiful Nipomo, CA. Our highly qualified teachers serve approximately 560 students in Transitional Kindergarten through 6th Grade.
The staff at Lange works extremely hard to provide our students with a rigorous, research-based, and meaningful curriculum that is fostered through the positive relationships and connections that our staff makes with our students. Our staff and parents work closely together to support all efforts to help our students learn 21st century skills that will help them on their journey to becoming college and/or career ready.
Lange prides itself in creating a safe and positive environment. We teach character education and expect our students to do their very best as well as being kind and thoughtful citizens.
In the year 2015-16, under the guidance of the previous principal, Ms. Debbie Schimandle, and the hard work of the Lange staff, students and community, Dorothea Lange was awarded the prestigious CA Gold Ribbon Award. Lange ES earned this award for its unique and successful implementation of literacy instruction K-6. We at Lange are very proud of this award and are going to work towards continued success.
These are exciting times for Lange students, families and staff as we build on successes and move into the 21st Century and full implementation of the CA Common Core State Standards. We hope you join us on our journey to continue to improve the educational environment for all our Bobcats.
We at Lange look forward each day to working with you and we welcome you to our website and school. It is our hope that this website will provide you with both information and assistance. Please feel free to contact us at (805) 474-3670 for more information.
Go Bobcats!
Michael Flushman, Principal
About Mr. Flushman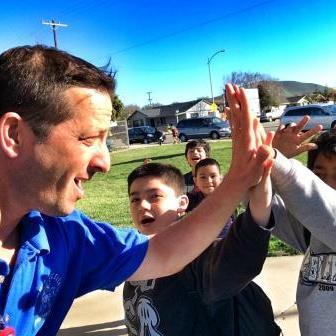 Mr. Flushman is a California native who has been in education for over 19 years. Mr. Flushman received his Bachelor's from UC Santa Barbara, Master's of Art in Bilingual Education from UC Santa Cruz, and Master's of Education in Administration and Supervision from Tennessee State. He has taught Language Arts, Social Studies, Reading, and English Language Development to elementary, middle school, and non-traditional high school students. He has taught and worked as an administrator in such exotic places as Berkeley, CA; Monterrey, Mexico; Nashville, TN; Lompoc and now Nipomo.
Mr. Flushman has three children aged 12, 10 and 7, and they keep him quite busy when he is not at Lange. His wife is the brains of their outfit and is a professor of elementary literacy education at Cal Poly San Luis Obispo. Other than spending time with his family, he enjoys surfing, playing basketball, hiking, movies, and food. If he had to pick a favorite book it would be One Flew Over the Cuckoo's Nest by Ken Kesey. He is currently reading a book about how to make cheese at home- eating cheese is one of his passions- that, surfing and high 5s.